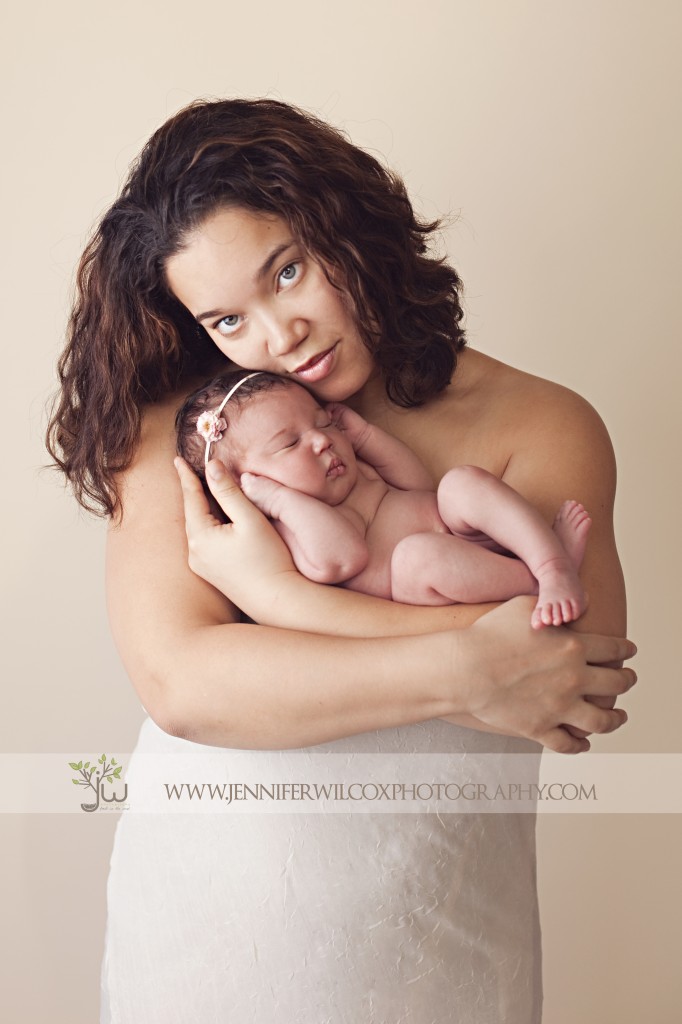 I decided to choose this image for Aniya's newborn session sneak peak because I love how this mother embodies maternal beauty.  As a photographer I love to show people how beautiful they are.  That is why photography is an art.  It captures beauty for the world to see.
We've all heard the sayings like "pregnant glow" before.  And when a woman is pregnant I am sure she hears it more than a few times.  But women so rarely believe the wonderful things people say about them.  We are so unkind to ourselves.  We focus instead on the weight we are gaining.  The rounding out of our figure.  The filling out of our cheeks.  But truly a mother is beautiful.  And I find as a newborn photographer that this beauty is always right on the surface for a woman that has just had her baby.  You can not help but look stunning when every ounce of your being is radiating happiness, pride and rapture.
Look at this beautiful momma.  In her arms she holds a daughter, a future friend and companion who will share with her some of the greatest moments in both of their lives.  Look at her eyes filled with light.  There is a deep happiness there.  I am struggling for the right words.  Maybe there are none, but if you have ever birthed a baby and then held that precious, tiny miracle in your arms you know – you've been there – you know exactly in your heart what this mom is feeling and thinking and if you are anything like me the remembering is making you cry.  Look at the glow on her beautiful skin.  I know she has naturally flawless skin, but that glow comes from the inside.  It comes from her body achieving a great work, it comes from love.
I know I have said it before, but being able to celebrate moments like this with families is such a great blessing.  Thank you so much for making me a part of your magical moments and trusting me to capture it for you!