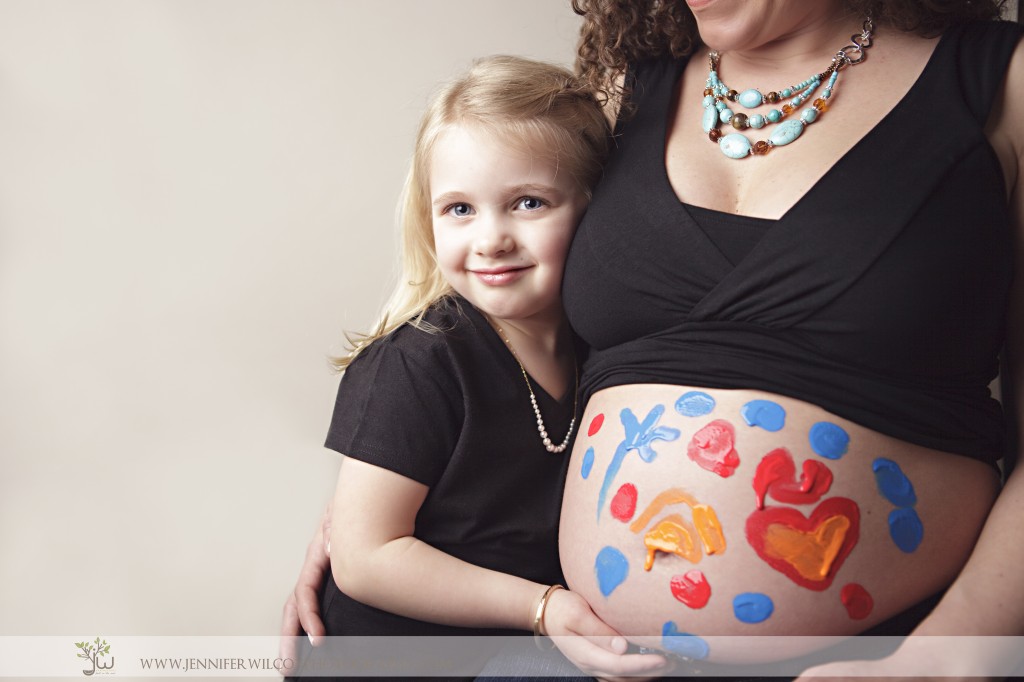 Mary was a good sport and let Lilly paint on her tummy during her maternity photography session.  It was the grand finale!  We had to coax Lilly to use some boy colors.  She wanted to use all the colors and make a big rainbow.  I love to do this with my maternity clients when they have young children.  It is fun and definitely something they will always remember.  Plus it lets mom and her children just have a special moment before life gets turned upside down.  I came up with the concept for this part of my maternity sessions from a tradition I have had with my children while expecting.  I started getting my belly painted all the way back 15 years ago, when expecting my first.  Back then it was my Hubby wielding the brush.  Since my son was born we have set aside a special day to draw on mom's tummy (we always use markers) before I'm off to the hospital to have a new baby.  It is easy to plan when you are being induced.  Not so easy when you have to patiently wait for baby to arrive on her own.
Letting my children participate in this small little moment was my way of including them from the very begining in the care of their siblings.  I wanted to let them know that having a new baby in the house was a family affair.  It was a simple way to help them get excited about the upcoming arrival.  I really do believe that children need to be included.  It is no fun to be left out of something becuase it is an "Adult" matter.  There is always a way to make your little ones a part of everything.
I know that sweet little Lilly is going to be a part!  She was such a good girl and a wonderful helper during her mother's maternity session.  This young lady is going to be such a wonderful helper for her mother.  I can just see her now being a little mommy.  I can't wait to have her back in the studio to take pictures of her with her new baby!  She is going to be so proud.
Just for fun here is my beautiful decorated tummy before the arrival of my last baby…