I love this little family.  I have been the Auburn baby photographer for several years now as they have welcomed two sweet baby boys into their family.  When I look at my calender and see them on the schedule it always makes me look forward to my week!  We did a mirror set with their first little guy, so I wanted to be sure to do one with little Cameron.  You have to be quick with these shots.  Even though I warm the mirror up, little people don't take fondly to sitting on the glass.  It is always just a little too cold.  The first shot with my camera was a look of total betrayal.  He definitely wanted to be back in the wagon with the teddy bears.  But a good photographer knows how to make magic anyways.  (visualize me patting myself on the back here)  I love this shot.  I love those deep eyes and chubby cheeks.  Emmalee and Robert, I hope you have a family busting at the seems with your wonderful children;-))))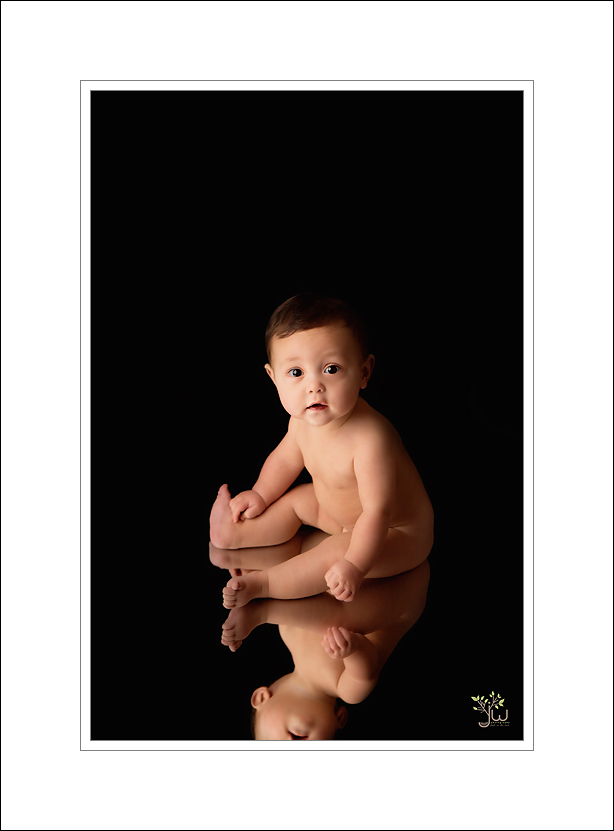 I am so thankful to be a part of capturing a baby's first year.  Being a baby photographer brings me so much joy.  Capturing a baby's first milestone moments for a family is such an honor.  Thank you to Cameron's family for choosing me to be your photographer and for continuing to return to my studio.
If you are looking for an Auburn Baby photographer check me out. If you are planning to book a session please check out my portfolio and be sure to prebook. It always makes me sad to turn families away because I don't have any availability. You can contact me by using the contact form at the top of this page.
Become a fan on Facebook  and keep up with the latest studio news, see new set-ups and current availability.
Don't forget to leave a comment and hit the Facebook like button.  Thank you for stopping by.