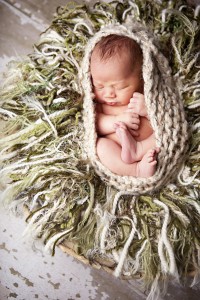 My  job is more than just photography.  Especially as a newborn photographer.  Like weddings, having a baby is one of those monumental moments in a person's life.  I have four children and all four of their births are still vividly painted on the canvas of my memory.  But over time some things fade.  Because babies grow so very fast, sometimes it is hard to remember just exactly what they looked like when you first meet and you experience love at first sight (it really does happen…not always with our spouse…but always with our children).  Someone, I am always honored when it is me, has to photograph those moments.  Someone must be there during those first few days to document the way Dad looked at his new son so tenderly and full of pride.  Someone must capture those precious tiny hands and toes.  Someone has to create image capturing the love shining in Mom's eyes!
A photographer can keep your baby a baby forever.  Just the other day I was morning the aging of my youngest daughter.  She just turned three.  I found myself browsing her baby portraits.  One image at a time I was taken back in time to those very first days.  She awed me.  As I watched my newborn photographer work her magic, I knew there was no other baby on the earth more beautiful than mine.  Watching as those beautiful images were being created made the memories of the not so pretty parts of labor and delivery slip away, leaving only the wonder and spiritualness of the moment.  Still as I look at my cherished portraits a tingle runs through my body and tears well u
p in my eyes.  Having images of her caught forever in all her newborn splendor is the greatest gift a new mom could have ever hoped for.  The gift that keeps on giving.  They may no longer be up on my wall, but they are in my heart.
I've been there on your side four times.  I know what it is to be a mother of a newborn miracle.  I know how
it feels to want to catch and keep forever every little impression of those first few days.  Giving you the gift of a life time becomes my personal responsibility.  As I work to create breathtaking images of your new baby I hope that you are sitting back, watching me and getting lost in all the magic.  Babies are God's gift to us, and my gift to you are images that are timeless for you to treasure that baby for the rest of life!
Let me be that special someone who keeps your baby Fresh In The Nest!
Love your Newborn Photographer,
Jennifer