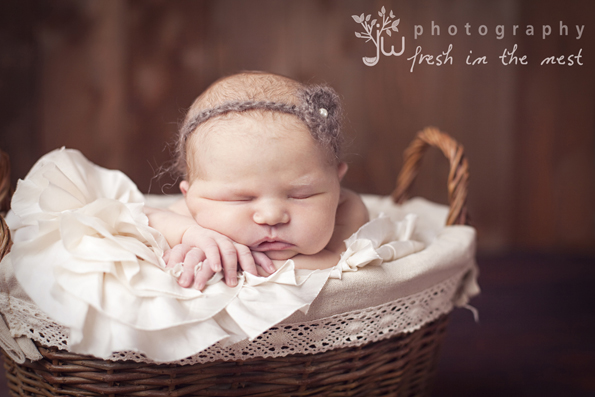 I am entering this portrait into
Inspire Me Baby's
2011 contest.  Here's why:
1.  I worked so hard this year to learn to become a better photographer.  I wanted to offer my clients premium quality portraits of their new little babies.  I signed on for the best workshops available and poured over any kind of learning material I could get my hands on, working to develop my skills enough to set myself apart from the scores of other newborn photographers.  It wasn't until Abby's session that I had that aha moment where I felt I had broken through to another level.  I have always loved this picture because it brings back that feeling of success.
2.  I was so excited this year to become skilled enough that I felt like my services had great value.  I have enjoyed being able to give back with my new found talents.  This little angel is the daughter of my daughter's 6th grade teacher.  I gifted this session to her as a thank you for the wonderful job she has done with teaching my children (she taught my son as well).  It felt so good to give back.
3.  In order to distinguish my self a bit from my competition I have sought diligently to find unique props.  I hand carried this basket, much to the chagrin of every airport and airline employee along the way, home from France.  I saw it is the window of a quaint little shop in Provence and knew that no matter how much it cost I had to bring it home.  I absolutely love it and feel like being careful with purchasing just the right props has helped me to create a style for my work.
You can check out Inspire Me Baby's website here…inspiremebaby.com