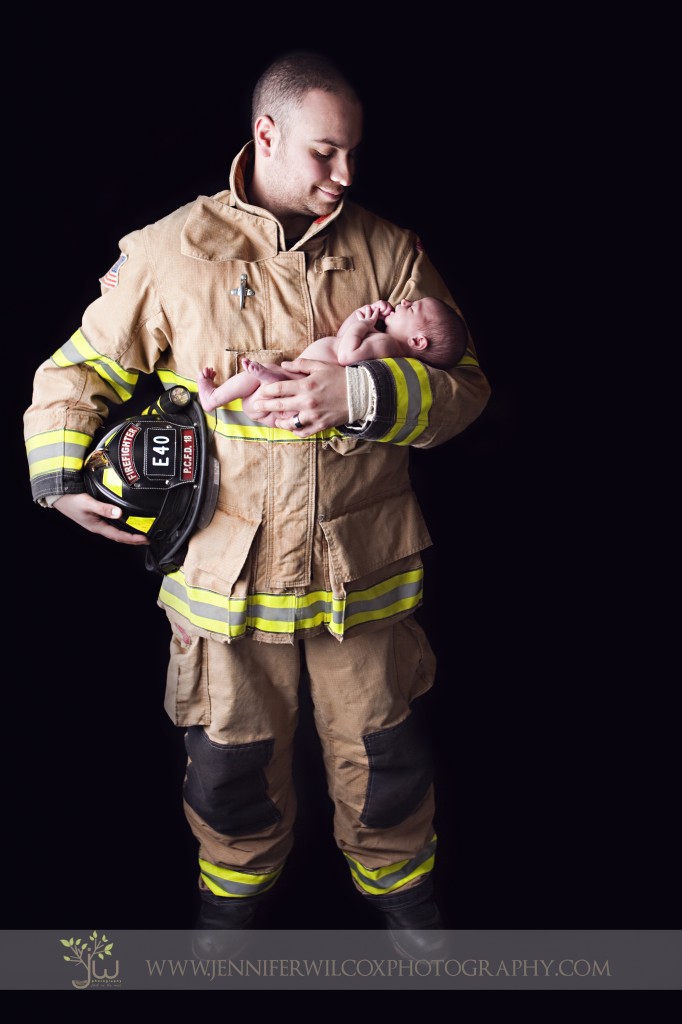 Being a newborn photographer is such a rewarding job!  When I think that I am creating portraits that will be loved throughout generations it just makes my heart happy!
Elinor's Daddy saves our homes and more importantly he saves lives.  I have to confess that it makes me teary to think about what a great service or firefighters give to us.  They risk their own lives to rush into homes ablaze with fire to selflessly save others.  There have been so many iconic images of firefighters and the rescued.  What makes those images absolutely breathtaking is that they have soul.  Three souls as a matter of fact.  The soul of the hero – you cann't help but feel a great and heartfelt  love for him.  The soul of the rescued – empathy and compassion for them.  And their eyes…you can look right into those eyes and see that with every ounce of fiber in their soul they are thankful beyond words.  And the soul of the viewer – what do you feel?  What cocktail of emotions has the portrait stirred in your soul?  I love this image.  Because it represent not only what Dad does for a living, but who he is.  It takes a certain kind of person to chose a selfless career.  And that will flow into what kind of Dad he is becoming.  She is so small and fragile and he is strong and brave, the perfect compliment.  He holds her now in his arms and will hold her close in his heart for the rest of his life.
On a side note.  I was curious and so I did a little snooping around the Internet.  What do people seek to save in a fire once people and pets are safe?  You guessed it…top on the list are irreplaceable things like photographs.  What an honor it is to be the one that creates something that is so cherished!