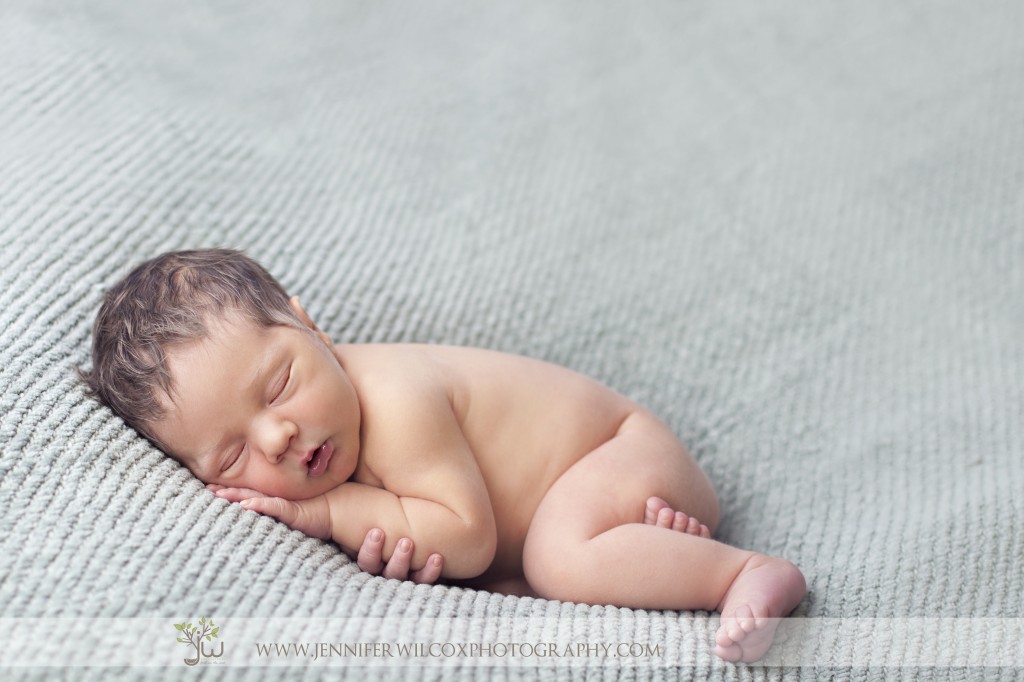 Is it worth it?  Have you ever asked yourself that question?  Do you ever have days where it seems that all the forces of nature are conspiring against you and everything that can go wrong does?  Bryce's day at my studio was one of those days.  It started off with a super cute but very awake and alert little baby.  Beautiful newborn portraits really do require a peacefully sleeping baby.  His mom and I were patiently soothing him between poses though and making things work.  Then the heater in my studio died.  Toasty warm studios are yet another requirement for stunning newborn portraits.  We were doing our best to keep his little area warm with space heaters when the third catastrophe happened.  I lost all the power in the studio.  For natural light photographers that wouldn't have been a problem but I use studio strobes.  Not because I don't know how to use natural light but because I prefer the strobes.  So I battled it out and opened all the shades over the windows to let in enough light to continue on.  Then last but not least, as if it were the last straw on the camel's back…the sun came out.  Now don't laugh, I know that sounds ridiculous, but I hate sunny days when I have a session.  I get these horrible stripes of light coming in through the sides on the blinds in my windows because the windows are pitched because of the A frame roofing.  I knew I was in for lots of extra editing.  Oh yeah, and poor Mom and I were trying to rangel two little siblings and failing miserably at talking them in to taking pictures with their brother.  Half of the way through this session I wanted to call it quits and reschedule.  Little Bryce's Mom was being so patient but I had had enough.  I felt like everything that could go wrong had and that there was no way, despite the hard work I was putting in, that I could pull off getting great portraits for this family.
It makes me think about parenthood.  Sometimes our days (weeks, years etc..) are like that.  Times were it seems like everything is going wrong and there is no hope.  We have a fiesty 2 year old who doesn't want to cooperate and we spend our day following behind and resolving one disaster after another.  Or that little lady you held in your arms just a few short years ago has hit her teenage stride and really giving you a run for your money.  Do you lay in bed at night and wonder, "was it worth it"?  Children are sometimes hard to convince.  They can't see the grand scheme or the great things we have planned and know are in store for them.  They dig in their heels and bluntly refuse to cooperate.  Like the struggle we had getting Bryce's brother and sister to sit with their new brother and take some pictures.
So is it worth it?  YES!  With patience, persistence and hard work we can succeed and there will be a pay off in the end.  It could be children who grow into becoming wonderful caring adults and parents of their own children.  Or in my case, beautiful portraits in spite of all the obstacles.  I am so grateful for little reminders that come in the form of precious sweet babies.  Reminders that remind me when even I hold them and stroke their brow as they fall to sleep that YES!  IT IS WORTH IT!