Issaquah Baby Photographer ~ Trouble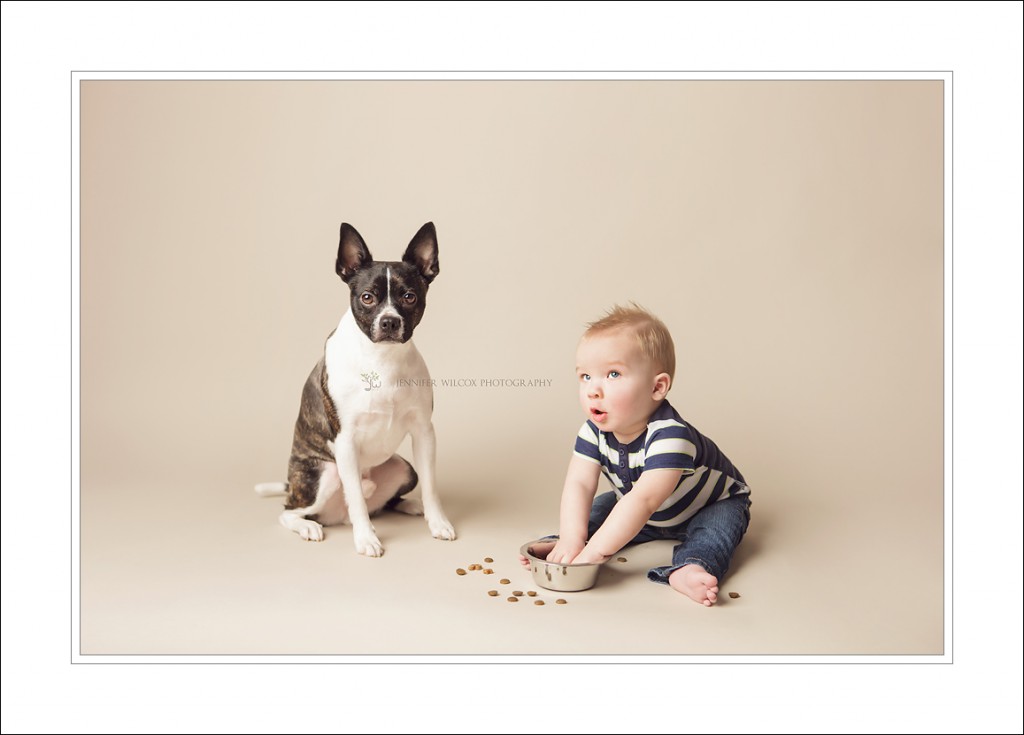 One of things I like to ask parents about when they are preparing to come in for baby portraits or a cake smash photography session is whether or  not their little one has any habits of getting into trouble.  Oddly enough it is those tendencies towards naughtiness that so frequently endear us to our little people.  They are definitely things that we remember since it is likely that working with those naughty habits occupy a big part of our time.  For my littlest it was dumping EVERYTHING out of her drawers.   For many it is toilet paper.  For Ben, who came to see me from Issaquah, WA….it is getting into the dog's food.  Everyone with pets can sympathize!
Fortunately Ben's parents have expertly trained their dog or this series of shots would have never been possible.  I am SO IN LOVE WITH THEM!!!  It was hard to pick a favorite.  I chose this one because the poor dog (forgot his name) is looking out at me like, "Oh man…do you see what is happening here?"  And Ben has that perfect "I'm in trouble aren't I?" expression.  It is classic, like a modern day Norman Rockwell.  This was definitely stepping outside my comfort zone.  Working with pets is very difficult.  I am so glad we made it happen because I know these will be favorite, cherished images.
I am all about trying to personalize sessions to fit the little people in front of my lens.  When scheduling your session with Jennifer Wilcox Photography, please think about what things you really want to remember.  What is significant.  What memories can we freeze in time.  Let's make the most of your baby's portrait session!