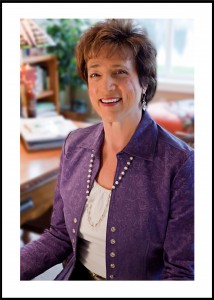 This morning I had the pleasure of meeting with Nancy Spencer, midwife extraordinaire and founder of Lakeside Birth Center.  I say midwife extraordinaire because Nancy has delivered around 4,500 babies into this world.  That is a lot of people that owe their safe arrival to this wonderful woman.  It was an enlightening experience for me.  Having delivered my four children at the hospital I was anxious to see the "other side".  I have to say it was refreshing.  So much so that if we were to ever be blessed with another bumper crop (meaning we were done before and already had one bonus baby) I would definitely consider asking Nancy to provide my care.  There was a peace and welcomeness at her center.  A home away from home, and I can only imagine that her clients love her for creating a welcome space free from the busy signals of  life to bring their children into this world.  Nancy has plenty of  charm and charisma to put mothers at ease, even wanna-be journalists (that's me).  One of the things that impressed me so much about this wonderful woman was her humility.  She has been very involved in the medical and political fields advocating midwifery and though I gave her plenty of opportunity to brag about her credentials she focused on the simple fact that she enjoys bringing babies into the world.  That's what it's all about.   Her focus in not on the achievements she can put on her resume, but on the role she has played in delivery 4,500 babies into their parents' arms.  So without further ado…I bring you Nancy Spencer and the Lakeside Birth Center!
Why did you decide to become a midwife?
She admits that becoming a midwife wasn't always her ultimate goal.  She didn't start dreaming about delivering babies as a child.  In fact she even got her undergrad education in a totally different field.  Many people and experiences shaped her path and led her down the road to becoming a midwife.  One such experience was the birth of her first child.  The opportunity and occasion presented itself and she went for it.  She feels like it was a gift that God gave her.  One that she added came with a lot of responsibility.
Why create the Birth Center instead of keeping your practice a traveling practice and visiting clients in their homes?
The building of the Birth Center is something that just all fell together perfectly.  I mentioned to Nancy, after listening to her story, that it sounded like Divine Providence.  Every little piece fell perfectly into place.  The idea of creating the Birth Center had been on her mind.  She expected that she would continue to see 90% of her patients in their homes and only 10% at her center.  One of the major factors in her decision was that not all insurance providers covered home births.  In order to meet the needs of a mothers that were seeking her care she needed to offer her patients care in a licensed facility.  Having a licensed facility would allow more people to choose to have home births.
Nancy had purchased a beautiful piece of property on Lake Tapps.  She and her husband had been sitting on it waiting for the right time and opportunity.  In 1993 they received information that if they didn't build now, in six months time the regulations would change, placing heavy restrictions on how they could build their home, and whether or not Nancy would be able to run a business in the home.  With a deadline looming six months away they decided to make it happen.  Things moved along perfectly; it only took 2 weeks to get a permit and they were ready to move into their new home and open the doors to the Birth Center on the very day of the deadline.  It was a perfect storm.  There was a need to start reaching for a goal, a deadline by which to get it done, amazing cooperation from all of the agencies involved and six months later a dream became a reality.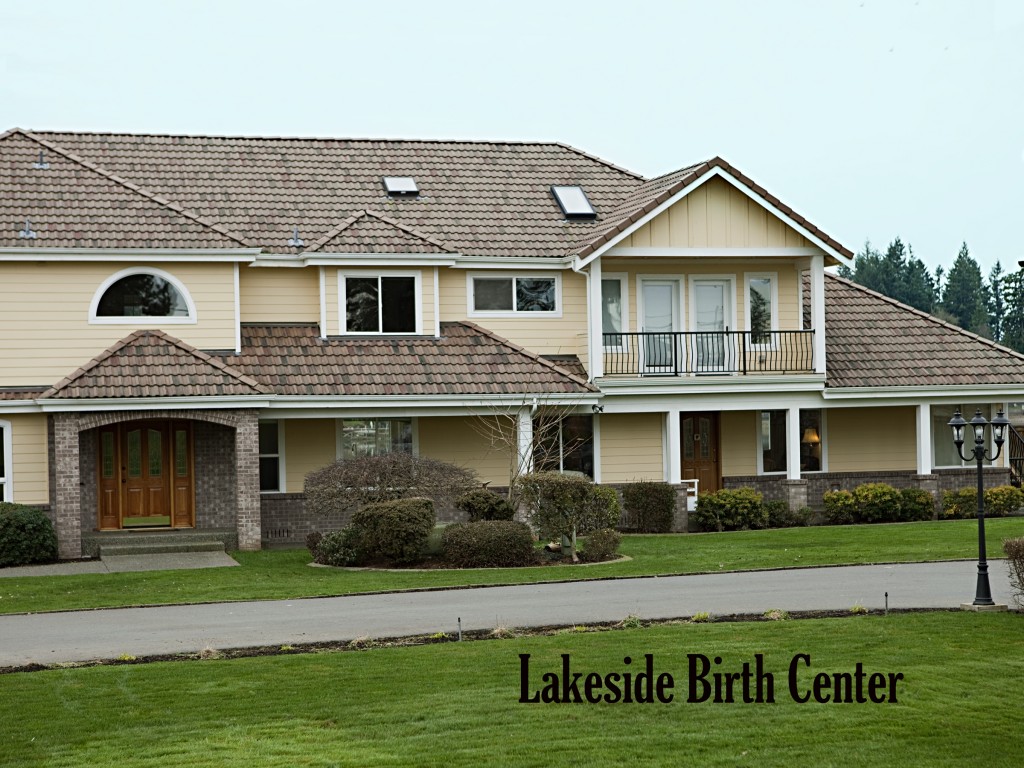 What are the advantages to having a center for mothers to come to?
Nancy reminded me that she thought only 10% of her clientele would choose to come see her at the center.  She says that in actuality about 70% of her clients are coming to the birth center while she visits 30% in their homes.  Again, one of the biggest advantages is that she can accept mothers whose insurance plans require that care be given in a licensed facility.  Occasionally there is a need to see more than one client at a time and her center makes that possible.  She smiled as she explained that she can't be at two different places at the same time.   Other than that she feels it is more about personal taste.  Some women want to leave home to have more privacy and peace.  Some of her clients like to just get out of the house.  I am sure that some mothers come just for the view!  Imagine having your prenatal visits and or labor and delivery to this relaxing vista!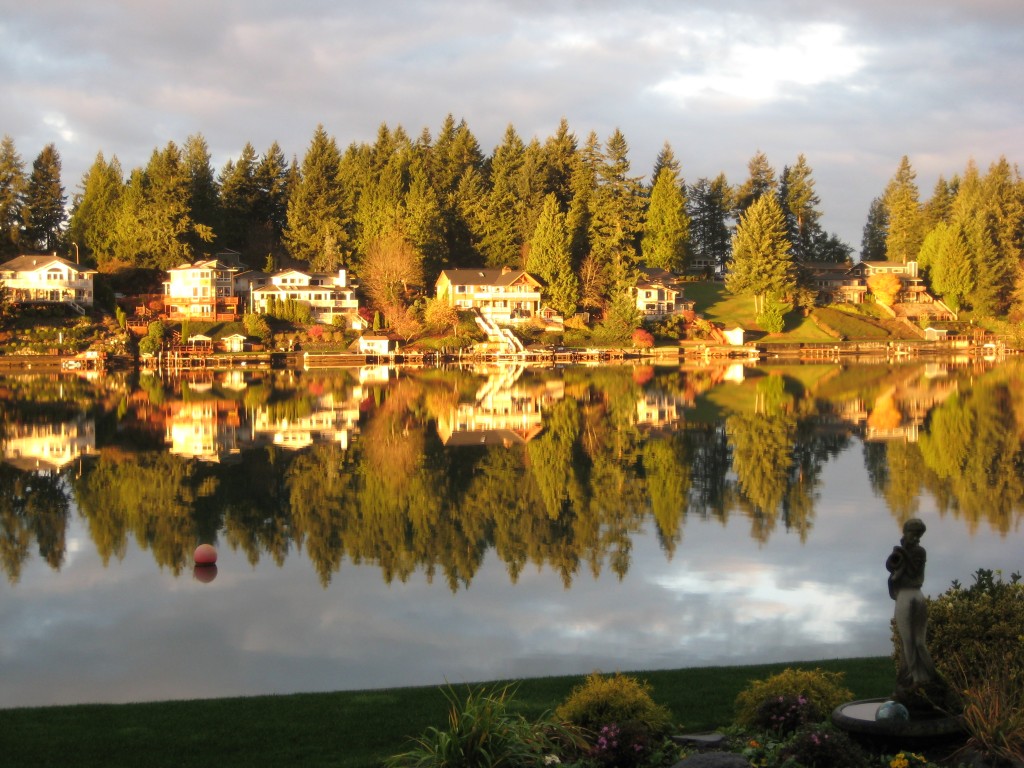 Provided by Nancy Spencer
What options do mothers have for labor and delivery?
This was perhaps a naive question on my part.  I suppose it is hard to grasp all the different ways to birth a baby when you are used to only delivering on a table at the hospital;-)  Nancy smiled, and undoubtedly thought to herself how little I knew about the whole process, as she replied that the possibilities were in fact LIMITLESS.  She does have a beautiful tub for water births and a comfy looking bed for those that prefer to lie back…But when I pushed her a little for more details she started listing so many different types of circumstances that I couldn't keep up.  Nancy is there to facilitate parents however they choose to deliver their children.  Her primary concern is that both Mother and baby will be safe, but once those needs are met she explained that everything else rests with the creativity of her clients.  Some choose a sitting position, some stand, some sit on their partner's lap….  Really there are so many ways and she is there to help make it all happen safely and joyfully.
Do you offer complete prenatal treatment?
Yes she does, everything from A to Z.  She is even equipped with a small ultrasound machine to listen to babies heart beat.  She refers her diagnostic ultrasounds out but is well prepared to meet the rest of her clients' prenatal as well as post-natal needs.
How long do women typically stay after delivery?
Mothers must stay at least 2 hours to make sure that everyone is safe and happy.  She says that when there aren't any drugs involved it makes things so much easier.  Mothers rarely stay more than 6 hours.  Occasions arise where families stay longer, for example if a baby was delivered in the the evening she isn't going to send a family home with their newborn in the middle of the night;-)
Do you have any tricks up your sleeves for starting the birthing process?
This question elicited a big smile.  This was her reply, "Lots of tricks, but no drugs!"
What has been your most memorable experience?
This answer to this question made me really start to think Nancy was a special woman.  Her answer was perfect, but not "politician" perfect like she was trying to answer in the most politically correct manner.  It was a perfectly sincere and honest reply.  She says that her favorite moments are usually the ones that just happened.  Those moments are fresh in her memory.  Every delivery is special and miraculous so the most memorable one is simply the most recent.  I loved her answer.  Every child she delivers has their day of fame in Nancy Spencer's heart, their time to be her best professional moment.  I really got a sense that Nancy loves what she does.  She basks in the presence of brand new little lives!
What makes your center different than others in the area?  Why should a mother choose you?
I knew this question left some wiggle room for Nancy to put herself and her center above others.  She didn't.  Instead she shared with me how she feels about keeping a good working relationship with other centers and midwives.  She replied that there are just different things for different folks.  Of course she knows that geographical considerations are a big part in making up peoples minds.  But in the end she feels like it is a personal relationship that matters most.  People either will connect with you or not.  But once she has created a special bond with her clients they generally come back again and again.
What can we find you doing in your spare time?
Paperwork she said;-)  And then followed that up with the fact that she enjoys it;-)  Nancy admits that she loves every aspect of her profession, even the laundry.  Nancy shared with me one of the projects she has been working on during some of that spare time (lots of sleepless hours in the evenings).  She just finished a book!  "Heaven In My Hands – A Midwives Stories of Birth and Life"  She gave me a copy (with the warning to have tissue on hand) as a gift for my upcoming plane trip to Vegas for WPPI.  I am eager to read it and share a review with you.


I must say that Nancy was a pleasure to meet.  She put me at ease and made me feel welcome.  She is a professional and a "real" person and that, dear readers, is hard to come by sometimes!  You can learn more about Nancy and the Lakeside Birth Center by visiting her website!