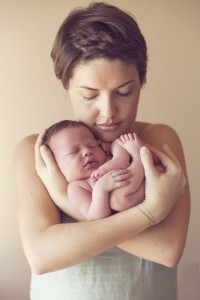 When my first child was born I went out and bought a beautiful $300 blessing outfit.  It was stunning.  The nursery was stocked with beautiful bedding from Pottery Barn.  And I couldn't resist purchasing every single baby toy my local toy boutique brought in.  The blessing outfit was worn once.  The blankets one by one went to the thrift store.  As for the toys most were broken, some never played with and few are remembered.  I feel like this is a commercial for MasterCard, but it is true some of the things you buy for your children mean something in the moment (like the outfits), some things are favorite soothies for years (like the blankets) and somethings might hold a special memory even for a lifetime (like a favorite toy).  Beautiful, fine art portraits of your newborn last a lifetime.  They become family heirlooms.  Pictures from your daughter's first days of life will perhaps hold a special part in a wedding slide show.  Mine did.  As I celebrated starting a new life with my best friend, I watched with tears in my eyes (crying now) pictures of my mother holding me and cradling me in her arms.  Pictures are priceless.  They are the treasures you run into your burning house to save.  And the tokens you tenderly touch in old age to remind you of a life lived fully.
All types of photography capture for life times our fleeting moments.  And of all the moments to be celebrated and remembered the arrival of a new baby into your life, your family, this world…should be something you want to document artfully.  When I look back at portraits of my third daughter (I don't have pictures of my first two children), I remember.  I smell her milky sweet skin and the thought of its velvety softness makes me long to hold a baby.  I think back to my husband and I sitting on the couch an marveling at the cute little elfish crinkle in her ears.  Pictures of her with her Dad about to leave us after just two weeks of her birth to attend for several months long Office Basic Course with the Army, make me cry.  I think about the the beautiful close ups of her soft lips and I want to go back and kiss them.  These pictures of her are priceless!
If one feels the need of something grand, something infinite, something that makes one feel aware of God, one need not go far to find it. I think that I see something deeper, more infinite, more eternal than the ocean in the expression of the eyes of a little baby when it wakes in the morning and coos or laughs because it sees the sun shining on its cradle.  – Vincent van Gogh


I require a $150 booking fee up front to schedule your session.  
Newborn Package $650
This package is for newborn and parents only.  Siblings are welcome to join if arrangements are made to bring towards the end of the session.  My newborn sessions last about 3 hours.  Those hours are spent celebrating, soothing, comforting and feeding your new baby as we work to perfectly pose her for every shot.  I edit and retouch 35-40 images looking to make sure every detail is looked over.
My newborn package is designed to provide you with a complete experience   I have trained with several of the top newborn photographers in the country.  I start with creating beautiful portraits of your newborn that are classic and timeless.  Then I move on to posing your baby in some of my hand picked props.  These props are selected with a criteria in place to insure that they are safe, comfortable for your infant and will not draw attention away from your baby.  They help me to create stunning art pieces for you to hang in your home.  Finally I photograph your baby with you.  These portraits are sure to tug on your heart strings for years to come as you are brought back to those magical first moments you had with your infant.  I have the training and skills to make sure you look your best so that you will be proud to hang your portraits in your home for all to see.
Package includes everything you need from your newborn experience:
35-40 fully edited, full resolution images on a disk with usage release
slide show presentation to share with friends and family
a special gift from me
Please make sure you read about my client loyalty promise at the bottom of this page!
My newborn package is all inclusive.  No holding images hostage.  I do provide printing, framing and custom design work if you would prefer not to deal with the hassle yourself and are looking for that extra professional service and quality.
Maternity Package Add On $200
This package add on is for mothers that want to document their pregnancy as well as the arrival of their newborn.  It is an add on to newborn packages only.  I prefer to do maternity sessions during your 8th month of pregnancy.
– About 15 -20 images will be provided on a high resolution disk with usage release
Baby Stages Package $200
These sessions are only available on a first come first serve basis, returning newborn clients have priority.  Document all the important stages in baby's first year.  Schedule a session when he is sitting, and standing at his first birthday!
– About 20 high resolution digital images will be provided on a disk with usage release