Puyallup Baby Photographer ~ Smiles
Isn't she just perfect?  It sure does make my job as a Puyallup Baby Photographer a whole lot easier when I get to photograph such perfectly, precious little ladies.  I loved this little jumper that Noel's mom brought to her session.  It has it all, classic but current, feminine and spunky.  Seriously, props to the designer.  I thought it would look perfect with all of my new flowers.  And what little lady isn't perfectly accessorized with flowers?  Noel was full of smiles on the day of her session.  It made me smile too because every time she smiled her parents laughed.  What a beautiful thing having a baby girl brings to a family.  She brings her parents so much happiness.
"A baby girl is one of the most beautiful miracles in life, one of the greatest joys we can ever know, and one of the reasons why there is a little extra sunshine, laughter and happiness in your world today." – Unknown
The author of this quote really knew what they were talking about.  This just is something magical about little girls.  Their happiness is so contagious.  There are many happy years and memories in store for Noel's family!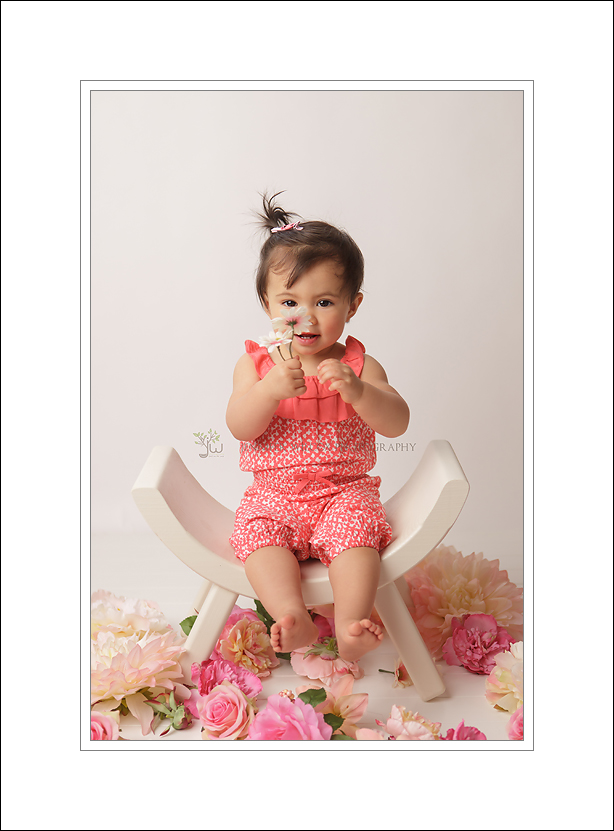 I am so thankful to be a part of celebrating a baby's first year.  Being a baby photographer brings me so much joy.  Capturing a baby's first milestone moments for a family is such an honor.  Thank you to the Marilyn and Neil for choosing me to be your photographer.
If you are looking for a Seattle or Tacoma area photographer check me out. If you are planning to book a session please check out my portfolio and be sure to prebook. It always makes me sad to turn families away because I don't have any availability. You can contact me by using the contact form at the top of this page.
Become a fan on Facebook  and keep up with the latest studio news, see new set-ups and current availability.
Don't forget to leave a comment and hit the Facebook like button.  Thank you for stopping by.