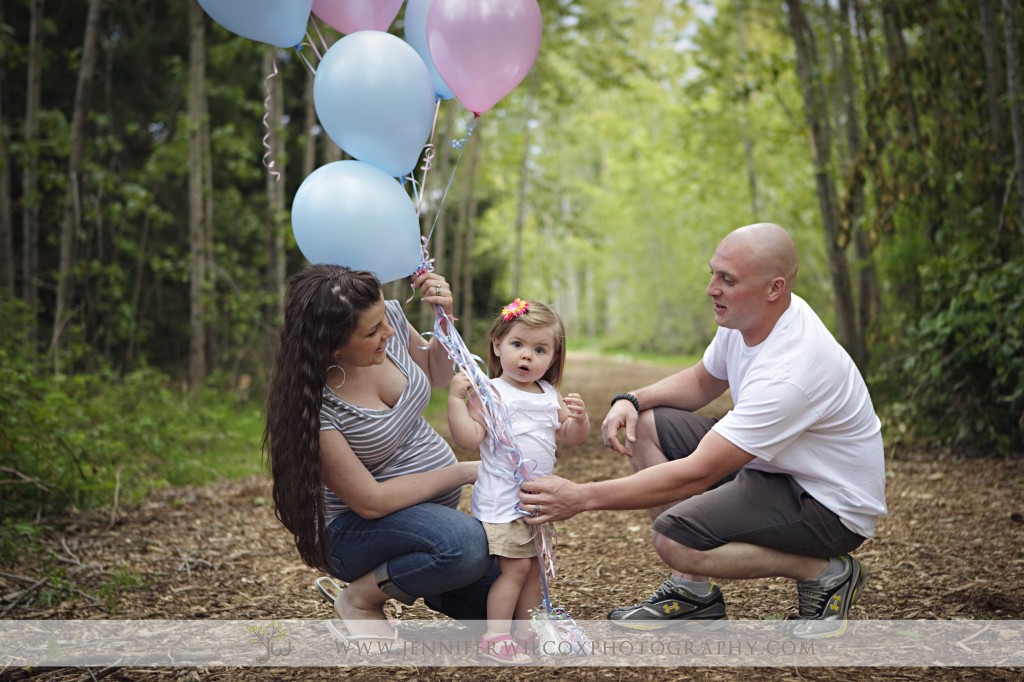 I am so excited to be this families Maternity and newborn photographer.  They have chosen to wait until delivery day to discover the gender of their baby to be!  I did this with my last two children and I always love it when parents are brave and wait.  It is so fun.  There are all those little moments along the way when you wonder if something that just happened is a coincidence or a sign.  It is so fun to test out all of those old wives tales / superstitions.
I have to say that after there photo session I am convinced they are having a little boy.  I can't wait to see if I'm right.  I brought balloons to this session mostly because I knew they would keep little Carrie Sue busy.  Before I even had them into the car three of the pink balloons had popped.  During the session Carrie Sue kept grabbing for the blue balloons too.  I convinced she is going to have  a baby brother.
Just for fun I thought I would include some fun little gender determiners to play with.  Courtney I hope you try some together with your family.  What do the "signs" say you are having????
Here is a Chinese Pregnancy Calendar.  It was right on with all four of my children!
Are you carrying low (boy) or high (girl)?
Is the baby's heart beat below 140 (boy) or higher (girl)?
Craving something sweet (girl) not so much (boy)?
Has your husband put on weight (girl) or stayed the same (boy)?
Has your face gotten rounder (girl) or stayed the same (boy)?
The necklace test says that if you hold a pendant over your hand and it swings back and forth your are having a boy.  If it swings in a circular pattern it might be a girl!
Are you breaking out (girl) or staying smooth and pimple free (boy)?
When you pick up a key do you pick it up by the narrow end (girl) or the top (boy)?
Did you know that in a recent study when mom's were asked about the gender of their baby with no knowledge from an ultrasound that 71% of them guessed their baby's gender correctly?